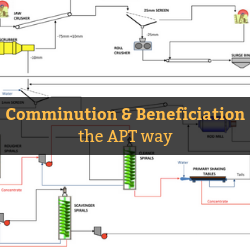 Classically comminution is associated with crushing and grinding to a fine size, something like the well established norm of 75 microns. But especially where the purpose is either flotation or even more so gravity concentration then the coarser the mineral can be liberated the better, within the upper limits of the process of course. Even where the purpose is cyanidation, finer grinding is dictated by the dissolution curve, and going beyond the optimum just entails extra grind energy. In a nutshell, it is definitely a case of horses for courses and one size definitely does not fit all. Then there is the effect of mineral hardness and brittleness. Some minerals, for example scheelite or cerussite grind far faster than the host rock and if the only consideration in the P80 of the total then certainly the target would have been preferentially ground well beyond that, rendering recovery difficult to impossible. So the methodology is to first remove any naturally occurring fine target before gently crushing the remainder in closed circuit with a screen to take off successive amounts as they are generated. Rolls crushers are particularly useful for this gentle crushing role.
Impact crushing has proven to me metallurgically advantageous because the energy goes into splitting the rock upon fracture planes or zones of weakness, like grain boundaries. The result is mineral liberation at a disproportionately large particle size and APT has termed the phrase 'early liberation to describe this. APT uses its own design RD impactors for this duty, which utilize very high impact energy for breakage.
In cases where minerals are hosted in an oxidized matrix it is useful to use an efficient scrubbing device like the APT RG scrubber, where the retained rock load in the scrubber acts like an autogenous mill to break up the friable lumps without pulverizing the mineral itself.
FLOWSHEET IMPLICATIONS
A typical APT approach is to first target the scrubber amenable fines and then impact the oversize after a jaw crush to reduce oversize lumps. The resulting product is recycled to the scrubber to remove the generated fines and the surviving oversize either goes around again, or progresses to a rod mill for a further nip. The RD impactor may be replaced by a rolls crusher in certain cases.
A typical flowsheet is depicted below, in this case for ultra soft target mineral.
TESTING
APT's associate laboratory Peacocke & Simpson is equipped with all of the comminution devices to test which is best suited to your ore's mineralogy. The lab then applies gravity or flotation and/or cyanidation to verify the choices and estimate the potential recovery. Usually a 100kg sample is required.
DESIGN
Once the groundwork has been established, APT's engineers can progress to a process design and plant costing with confidence, and then install the correct plant for the job.
For further information, please contact us here, we are always happy to help.