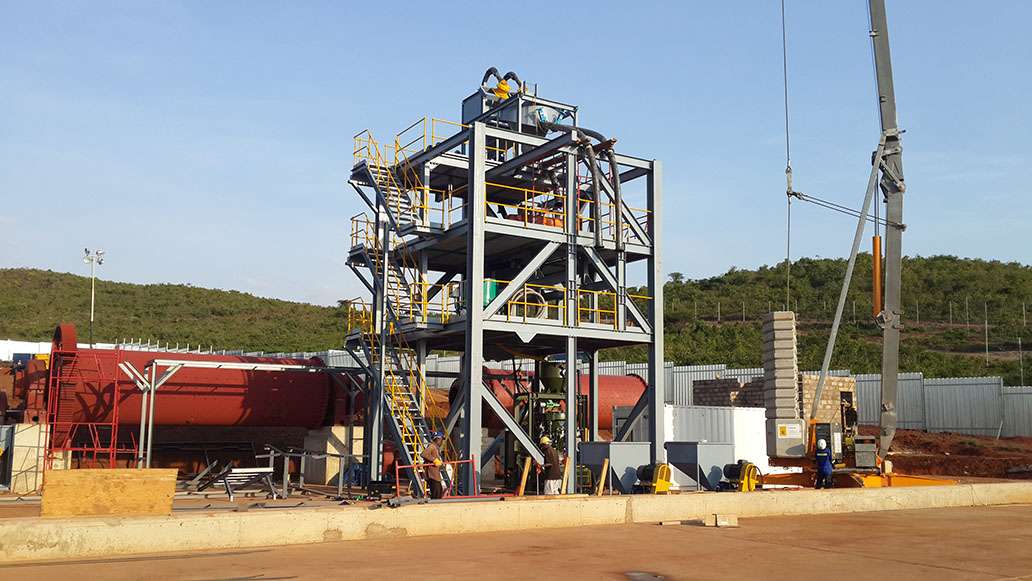 APT has successfully completed the design, manufacture, installation and dry commissioning of a 25000 tonne per month (tpm) classification and gravity recovery circuit for CATA Mining at their site near Musoma in Tanzania. This is part of a three stage project which also includes a CIL leach circuit and field assay laboratory. Initial testwork by APT's associate laboratory Peacocke & Simpson on various samples from around the mine area indicated exceptional grades and a high potential for gravity recovery to play a role in the process route chosen.
The design of the plant is based around a unit tower structure which contains parallel cyclones for classification of mill products and screening out of oversize material for regrinding. Gravity recovery takes place in an FLSmidth-Knelson CD20 concentration equipped with ICSj automation.
Knelson concentrates are treated in a fully automated Consep Acacia CS250 intensive cyanidation reactor with electro-winning circuit for highest recoveries. All reagent handling and dosing systems have been included with the plant.
Thanks to APT's philosophy of providing complete modular solutions, the entire Phase 1 structure was installed within one week of the crew arriving on site, with electrical wiring and piping completed a couple of weeks later, as shown below.
Phase 2 of the project consists of 2 x 400m3 CIL Tritanks also designed by APT, and full carbon elution and electro-win facilities. These are currently complete and awaiting shipment to site and installation, after which the entire plant will be commissioned together with the third-party crushing and milling circuit.
The implementation of multiple phases of this project through APT and its associates is a demonstration of the client's confidence in us to deliver a top level solution with minimal capital expenditure. Careful and methodical work by APT's engineering, procurement, assembly and installation teams has allowed us to turn this into a reality.